EVIDENCE OF GOD'S FAITHFULNESS AND PROVISION
Philippians 1:6 ' I am sure of this, that He who began a good work in you will carry it on to completion until the day of Christ Jesus '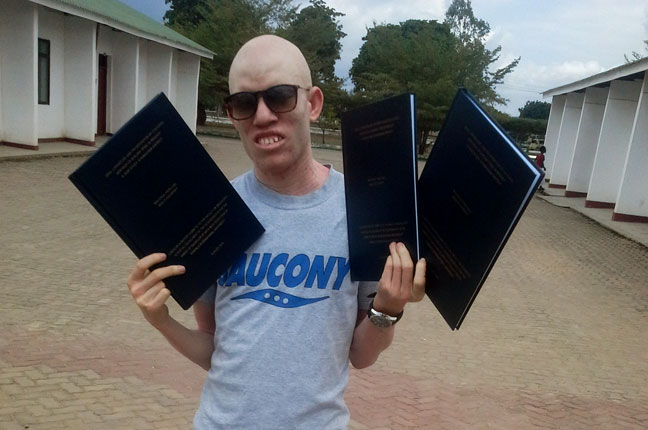 I was fifteen years old when I completed grade seven. One day, Yohana, a seventeen year old boy arrived from Kanawa primary school. Yohana was an old friend of mine but we had not seen one another for some years. He found me still in bed because it was cold that day. Yohana sat himself down on my bed. He had an envelope in his hand and said: "I am happy to see you again as I missed you. We have so much in common. The head of Rajani Secondary School gave me this letter for you with instructions for us to join their Secondary School." At the top of the letter was the stamped address of my primary school. What a joy! He looked at me fondly as I gave him my thanks for the letter he brought.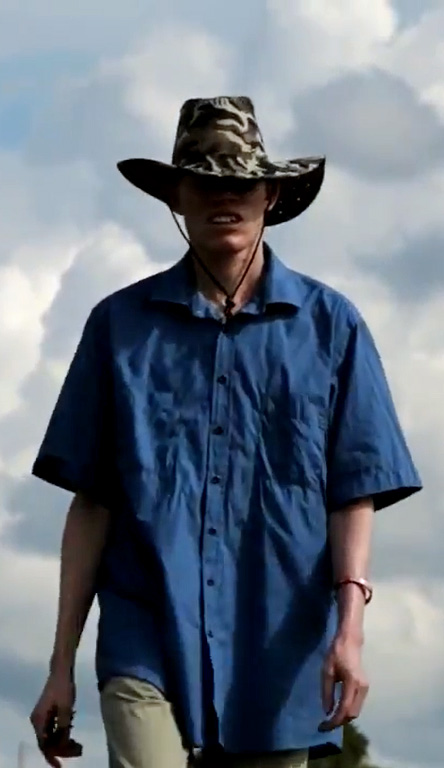 From the age of nine my life was much like those of any child born into an unstable home. Although I was a child, I still remember acing out the door with tears in my eyes after the incidences that had happened in my family. Little did I know that happy days would soon disappear and my little heart would break into a million pieces and there was nothing that could glue it back together, other than Father God and His faithful people. Of course these memories have reminded that one cannot turn back the hand of time…it hurts so much if someone who loved and protected you would never be seen again, maybe for the rest of your life. Even today my head still hurts when I think of the sad moments when my dad chased mom away from the house saying, "Go away. Pack your things go and never come back again!" My mom would run away, sometimes in her bare feet to save her life. I had no power to stand up to prevent dad beating and verbally insulting my mom as I was still a little one. I was frequently left alone for entire days and was never allowed to attend any social gathering like church, although my mom was a Christian. I was just crying. Sometimes I slipped away to wander in the maize farm. When Mom came home, I even laughed for seconds and I usually fell asleep on her lap. Dad was an alcoholic and usually beat me as well as mom. That time was full of pain in my heart. I have a scar on my left leg which was a result of an injury which occurred when I was running to escape unfair punishment from dad. With no money for medical care, my leg was reset without medication. I was left on the floor of the out-hut and unable to walk for several days. My mom's friend helped me and showed her care to me.
Tears still run down my cheeks when I see someone pushing, beating or insulting their kids or their wife. Witnessing my mom's time of troubles was extremely difficult and it continues to be a healing process for me. It makes me think of incidences which changed my life. Never in my life did I think I would be in this position and writing about these things that led me feel physically sick when I heard and witnessed them in my life
The journey of attending secondary education started soon in January 2007. My life was still full of sadness, the routine was the same; fear about what the next days would bring. I just sat for hours; my heart felt like a stone wondering what to do with school fees and other expenses. I may not understand why I faced certain trials but what I knew is that God is good and I will trust in Him. For He has plans for me and a purpose which is beyond my understanding
I decided I would wait to see what would happen to me in life if I quit going to school. I hardly had the strength to think but I found no encouraging answer. I left all my little thoughts and heart into the hand of God saying, "God be with me." I later learned that I could work in sisal rope making which could gave me some money to start going to school.
One Friday morning, I got up early, grabbed my clothes and dressed in a hurry and left for school. When I entered the office of the accountant, I paid some money and explained what faced me in life. He allowed me to stay at school and get in the classes although I could barely read or write. I don't have words to describe how I felt but I was stunned. This was the beginning of restoring the joy and happiness which I had not felt for a long period of time.
As I continued to do well at school, my reading and writing skills become better. I understood that life is full of changes but God is constant. Through it all His love endures and remains. He is an anchor of Hope since He knows everything we are feeling and how much we may be struggling. He loves me and He remains my rock, my good God.
As I continued to roll into another month, the Lord never ceased to amaze me. One afternoon the accountant of the school called me to his office and told me that he was moved by my life story and he promised to find someone to help with my studies. The unique joy from the Lord to me continued, peace, healing justice and love from the Father brought me into crazy intimacy with Him in my spirit. We had students' church services every Friday. We were taught to trust God by being in tune with what the Father is already doing, we can be effective. Since then I felt the Lord's presence even in those small things and it brought me to my knees during times of worship. One Sunday when we went to the church, the pastor talked on how God is best to us because He is best and He is all good. Those words touched my heart and I totally started to live in His will although I did not have the Bible. I just heard the Good News from the church!
Time went on and I continued to be a cheerleading student in my class, while taking side roads and walking through hills and small rivers to the school. If I was fortunate, I got a lift by bicycle for a few miles. I also stopped at Salome and at Moshi's parents and asked for food and water as I journeyed this entire distance home. The school I studied at was four villages away but we had to be there at 8:15 a.m. After I came home from school, I helped out with the house work and did homework.
Time went by and one fortunate day when I was in the form two class, the second mistress of the school, Miss Harriet, told me to come to accountancy office. She told me that I had visitors in the office. While going there, I just worried how I would meet the visitors in my dirty and simple clothing. My mind was blowing with numerous questions. The closer I got to the office, the greater was my anxiety. I found them waiting for me. They both greeted me warmly with excitement and gratitude to meet me. They introduced themselves with their names: Hanneke and Grace Allison.
Words cannot describe my happiness when they told me they would help me with my studies and insisted that I trust God in all that I did. Hanneke, who has now become my beloved Mom in Jesus, took photos of me and Grace. Hanneke asked me numerous questions which I answered. The headmaster was no longer sponsoring me but he asked this Canadian missionary to sponsor me. As they left for home Hanneke gave me some soap and lotion for sun protection. I remember Mama Hanneke comforted me with numerous encouragements, she said;
"You need to work hard at school and in all put God forward in everything you do. You are a child of God and He loves you. You have no reason to worry, God loves you and He will provide; He will raise up community around you to love you, to encourage you. Trust Him. God will do right by you if you do right by Him."
Now this is the true evidence of God's faithfulness and provision. Through my fear, stress and feeling of inadequacy, God showed Himself to me by placing people, one after another, to encourage me with their words and prayers, with hugs and smiles, wisdom to share and hearts that rejoice and ache and walk with me.
This was the first time I truly got a taste of what God, I believe, feels toward me. I had no idea before that Hanneke and Grace were the ones God had in store for me but He did. That was a big surprise! Since that time, I increased the effort to believe God through His love rather than in my weakness. This is the lesson to trust and depend on our God who promises good things for those who serve in His name. And a lesson I am still learning many times is that His love suits my weakness and I trust because He has shown Himself faithful. God had planned for me to meet them. "For I know the plans I have for you 'declares the Lord' plans to prosper you and not to harm you, plans to give you hope and a future"-- Jeremiah 29:11.]
As I continued to encounter many blessings from Mama Hanneke, finally I asked her kindly about what it is like to be a Christian or a believer of Jesus. She joyfully said, "I believe that Christians are called to offer their hands, ears and heart to help people heal and feel valued as the image of God." I was very inspired to hear from her but the most exciting thing is that seeing God's existence in my life delighted me and I longed to enjoy building relationships with others and hearing different stories about others.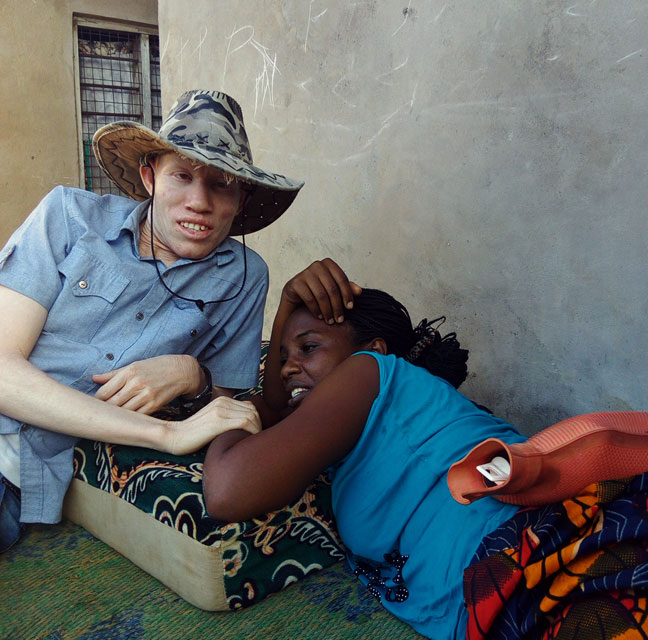 After form two exams, the killing of albinos increased and I got scared for my life. The government decided to put all albinos into boarding schools and I went to another school. After graduating from form four, I went to live with my uncle. While there, my life was not really good as I was treated harshly all the time. My belongings such as mattress, books and clothes were burned by my uncle as he did not want me to live with him anymore.
A few months later, our form four results were out and I had qualified to go to high school. While at school my uncle sent me a message that he did not want me to come back to his home or he would kill me. I sent this message to Mama Hanneke and she invited me to stay with her during holiday. I thought that my life was at an end. I thought that in the nighttime murderers would come to kill me.
The killing of albinos in Tanzania began because of the witch doctors. Really I do not know why we albinos are missing the peace and that thousands paid with their lives. It is clear to say that, years ago, Tanzania was a peaceful country but God knows what went wrong…. much social war erupted and now albinos are suffering and crying for the peace that was destroyed by a few people. Tanzania is still shedding blood and children, especially albinos are killed like chickens. Men and women also are in trouble and many of them are in orphanages to protect their lives, others have been abandoned by their families and are separated from their relatives, while others have been sold to the witch doctors. Even when albinos are buried, bad people follow then and unpack their graves and take body parts. This cannot be expressed by anyone except Tanzania citizens and albinos themselves and some of the people with undying love toward albinos.
Time flew by incredibly fast. Life at that new high school still held some kind of fear, one day passed just like another. Days seemed to blur into each other with no hope because with the start of each day came dread and fear. The sheer sadness I felt as I went to sleep in the nights was so suffocating, I felt I couldn't get up. Quietly, I would wake up in the morning and dress in our school uniform and shoes to get ready for school. We added a blue sweater if it was cold. We were not allowed to go into the city or town because the school teachers and leaders worried that bad people might catch and cut or kill us. Despite my terrible lot in life, I always had a strange feeling that I am loved by God and I have worth in Him. I closed my eyes tightly and prayed to God to help me not to lose all hope. After class hours, we had group discussion in front of parade grounds under the mango trees as we did our manual work. The school was first established and administered by a Catholic church after colonialism, then later it was controlled by the Tanzania central government.
One day in January, Hanneke came to my school to see me and to bring me some Christmas presents because I did not go back home during Christmas holiday. She told me, I should study hard and not worry because God is protecting me and that uncle Don and many friends in Canada were praying for me and for my safety, God's angels are watching over me all the time. I always was overjoyed to see and talk with her. Seeing each other was the greatest gift from God. We were very excited. When she prayed with me, I found in my heart a spark of love. When she was leaving, she shook and hugged me and sighed deeply, saying, "God be with you." In turn I thanked God in silence because I could not even cry or express the feelings that I had before. Realizing even if it was a short period of time to speak and stay with Hanneke at my school meant the whole world to me.
As days went on, Hanneke's heart and godly spirit continued to draw me near our heavenly Father and bless and encourage me. I could start my day with prayers that no harm should come to me. I attended classes every day except on weekends and sick days. Most days the school provided food for the students. Sometimes the food ran out and the school had no money to buy more. The school had few books or supplies. The only teaching supplies the staff had were a few boxes of chalk to share around. The teachers understood the limitations of their circumstances and they felt frustrated by those limitations yet they did not bring their trials to their classes. They were caring and kind with us. They were polite, respectful, joyous, hopeful and dedicated to help us.
Despite, the lack of resources at the school, our teachers taught us all that we were supposed to know. We brought books from home and we shared among all the students. We had enough time to attend Bible lessons, singing songs in the night time after school prep. The teachers were exhausted when we went home for holiday, but when we returned the teachers would tell us how they missed us. Madam Rehema was my wonderful religious teacher who liked to tell us that, "God has not finished with you. He has just finished the start." Mr. Denise Mwakisimba, the school second master was hilarious and wonderful toward counseling and work. He loved me. We have had a beautiful friendship. He told me to work hard and do more at school. After graduation and after my last exam paper, Mr. Mwakisimba shook my hand and told me, "God has blessed you in all that you have done; He saw your wanderings in these two years here at school. God has been with you so you had lacked nothing. May His determination be your steps into university. Congratulations be with you Paschal." I saw the seed we got from our school community. I told him, "It is going to be hard leaving here!" I really emphasized this with my favorite high fives to him. I gave a Christmas card and thanks with my picture on the inside. He hugged me and said he loves me. I smiled at him and gave him a shy look of gratitude in return. It was good to have their encouragement for spending time with them at school. Maybe they will even hold on to it long enough to take root and grow into something great. At the beginning, I wasn't sure how much I was going to enjoy being a high school student, but I ended up really enjoying it and I loved being there at school all the time. Even though I didn't have many friends at first but later I made many friends and learned their personalities through sharing goals and casting visions. We grew to love each other as a big family. This is a good taste of God's love and provision and faithfulness. My friends gave me the picture of being loved and cared as they teased and shook hands to thank me for being their friend, I need your phone numbers' this made my eyes tear up a little. Thinking of good time at Tamari beach with my great friends is incredible, I will always remember them for the rest of my life and continue to live as a testimony to His faithfulness which I realized that 'true happiness comes from being in presence of the God and that was the example that God worked things out because He loves us and we trust Him. Seeking and inviting Jesus Christ into my heart, receiving Him as my Saviour and practising a simple act of faith led me to find joy and peace even in the most difficult days. God has chosen what is better for me, and this will never be taken away from me!
Finally, I had to say goodbye to my loved ones with a feeling in my heart which words will never describe. As I left Kulwa I was holding back his tears.
One beautiful day as the sun was shining brightly over the buildings and streets, Hanneke and I entered the drive between the school gateposts heading home. After driving for some miles, Hanneke stopped by to buy some fish along the main road where ladies served fish through the car window.
After travelling for what seemed like a thousand miles, we finally got home. Before getting out of the car, Hanneke's dogs rushed towards us backing to greet us. It was not easy for Hanneke to get out of the car because her dogs raced to her before she hopped out of the car.
Two boys, Faraja and Baraka tumbled through the front door, calling welcome. As Hanneke jumped out of the car, the boys ran towards her calling, "bibi, bibi, bibi, bibi," [grandma]. Naomi, Jackie and Christina rushed to meet her and exchanged hearty hugs and welcomes.
All the kids greeted us and helped to drag our luggage out of the car, both of them were merry and kind. Before going into the house, Naomi said, "God be praised for your safe journey" and she said a prayer to give thanks to God for both of us. Hanneke replied, "God be praised that we find you in health."
After we got in the house, Hanneke made food. The food was always fresh; the house has enough space to store our belongings, with several rooms and a kitchen. I became thankful to God for establishing a comfortable home where my joy started to be restored and I became a happy person. I learned later that Jesus is the hope of all the hopeless. I thought and increased my effort to pray so I could be bold in standing up for Jesus. I felt God's comfort, every day we prayed and learned from God's Word that Hanneke, my mom, shared to guide us every day. I am writing this to testify that finding Jesus is the greatest blessing to anyone. I thank God that He sent us His beloved daughter, 'Hanneke' to tell us about Jesus and show the true love of Jesus so that will have a happy death and go to Heaven to have everlasting joy with our Heavenly father.