Six Weeks of Assignments
It was earlier in July 2014, Samuel, Martin, Emmanuel and I hiked out of Kampala International University heading to Juhudi Secondary School where we were admitted to spend our six weeks of teaching. We crossed streets, shared the roads with other bikes, the motorbike held heavier loads and passengers. We pushed ourselves for some hours and more until we reached the school at 10:30 a.m. I was very tired, as I was not really fit.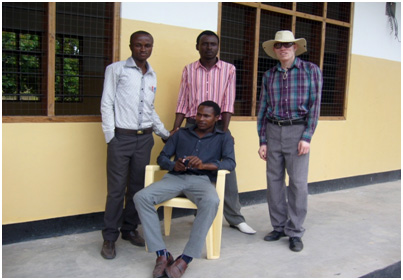 Things looked strange to all of us. We were directed to the school Academic Office for further identification and for signing the visitors' book. We were greeted warmly by the many students, other workers and by the teachers as well. There was something genuine about the welcoming smile of many of them, the generous hospitality of their culture extended even to their facial expressions. They are serious about their welcome.
The four of us were taken to the larger room which was assigned by the authority to be used for the part time teachers from different universities across Tanzania who were appointed to do their teaching practice - including us of course!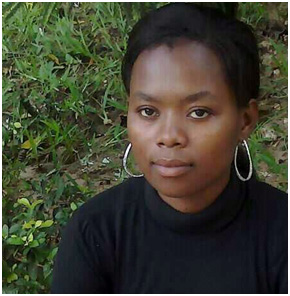 Mr. Nyunyusa and Neema Makundi are hard workers to lead academic affairs in the school. They are very encouraging and hard workers. Mr. Nyunyusa walks as fast as a flying jet. He wants to accomplish everything in a timely manner.
We were given the same warmly greetings from our fellow part time teachers who stationed before us. Sitting on a small table, I felt like I had exposed my body to the sun. I looked red. That is to say, the weather in that the place challenged my spirit and drained my all my energy
I then saw some of the students holding a big thermos of tea, I saw other part time teachers serving themselves in white cups. A young lady and a wigged teacher squeezed near tea to invite to take part in getting in on the office tea. Her topped cup of tea soot as a processing industry. I thanked and I told her, I didn't need tea. I said, "Taking hot tea would double my body temperature in such a hot room."
She wanted to keep in touch and asked my name, I asked the same of her, and she responded that her name is Jenipha. The way she pronounced her name was very much distinct with the really name. She taught Commerce and Bookkeeping. Her smile is big and wide and she is splendid, which looking at her photo she is indeed). Her eyes are as bright as the moon and her voice was like the humming of bees.
I used the day of 22nd of July 2014 better to explore the school and its culture. The school is stationed near the military camp and the buildings look like each other. I wondered greatly when I saw that the school was crammed with sand. It may take you a long time to walk a short distance. My black shoes got stuck in the dust everyday as I went and came back from classes. The majestic shadows of the trees are amazing. I enjoyed standing under them.
The culture of this community is unique. Students are more than 1200, all in uniform, Teachers and other workers suit themselves in nice and respectable dresses. Generally their appearance is smart!
Madam Stella, Scolar and Tarimo who are staff members showed me the school campus and shared with me the incredible history of the school since the time of its construction. How much I enjoyed seeing the sand although I was jaded with the dust on my shoes. Since that date, I have already adjusted to the environments and become a really member of Juhudi. I was glad and praised God for enabling me to have a part time ministry over there.
The computer room is very well arranged, it is connected with a speed Wi-Fi which I used to catch on email during my stay!
Every parade has to be accompanied /or started off by prayers. The number of students was higher than what - usual and the school administration used microphones - so that everyone could hear the announcements given or delivered by the leaders.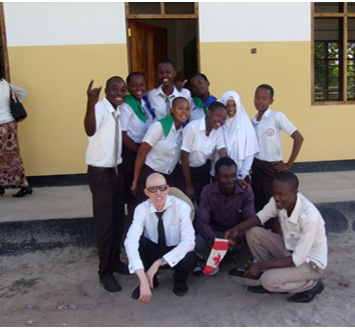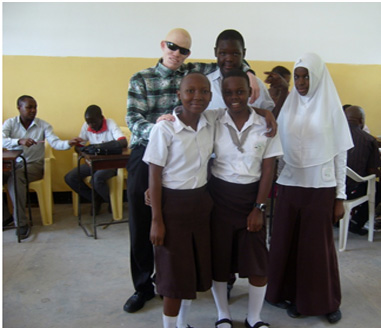 Photos: some of teachers and my students in form Three C.
Classes are taught seemed to like me. They asked if I could remain to teach them, my answer was, pray harder and harder! They are cooperative and they did well in my lessons. Their behavior, hard work and gentleness were something special to be treasured.
It's definitely special to be one of Juhudi family. It's a good school I had not never encountered before and I look forward with great joy for the opportunity to spend my field work over the next term, God is faithful and He will make the ways. While in Juhudi, I have been able to visit some of friends at Pugu Secondary School where the first President of the Republic of Tanzania was taught. I could help some of students who have physical health problems. I am amazed by the presence of God that I could be able to help a young who didn't even know how to separate word in a sentence but through God he knew. He had not as yet made a mark in his exercise books, but now they are marked. What awesome God we have!<![if !vml]><![endif]>
<![if !vml]>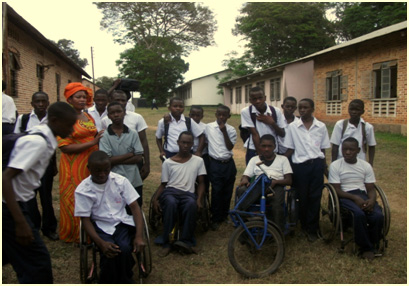 <![endif]>
Photo: students with their teacher at Pugu
On the final day, I arrived at the school at an earlier time than I was doing before. I longed to have one class to attend but the time of our six weeks seemed to get away or escape from me I sat down on the little platform that I propped in the sand. I warmed by the time until sweat streamed down my face, my heart beat as loud as a drum. The fellow teachers came at me and I wondered if everyone felt the same pains! We talked more how our really amazing time has been so fruitful here. Dominic, Aron , Elizabeth and Neema tried to hide their tearful faces but they were really observed. I could share some verses from Romans 8:38-39 to encourage them. "Nothing in all creation will be able to separate us from the love of God that is in Christ Jesus our Lord!"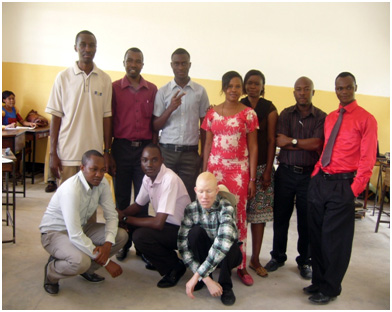 We were told to move but most of us agreed to move with red eyes as it disappointed us deeply to leave out especially to the friends and students who have been living with us amicably, we hugged each other, saying goodbye to each other until we meet again in God's time. Before moving one of my treasured student came into our office, her name is Neemamaria, she asked me if I was leaving, I said "yes," she told me, "Teacher you are simple and complex, you taught us , we understood, you are very slight in shape but your actions are very encouraging, will you come back to us?" I answered, "Yes I will if God calls me again to be with you!
As you focus your thoughts on this report, you will realize how much our assignments have been so stunning there. To spend time together with students, teachers and friends has been profitable to all. I wish you could have shared. There are so many things we have experienced already; there are already so many stories. I wish I could write but time went off.
Thank you so much to all who shared with us our stay and special hours at Juhudi. May God bless you richly.