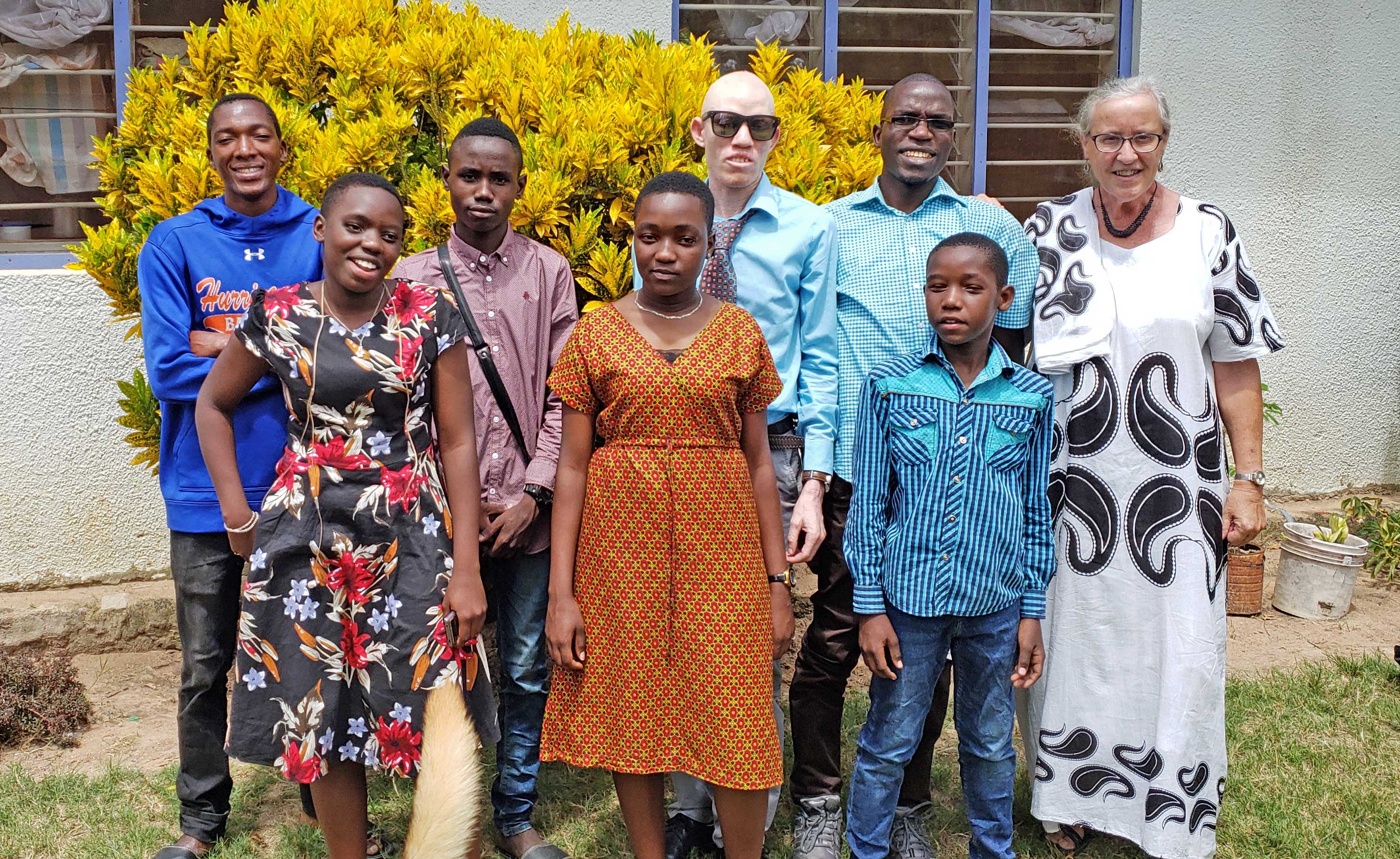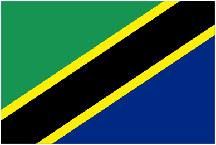 Hanneke Cost Budde, Tabora, Tanzania.
Hanneke was born in Holland and then moved to Canada, her training was in education and counselling high need youth. While attending a mission conference at Knox, Hanneke felt called to work with children in Tanzania through Africa Inland Mission. "This year I will have been in Africa for 26 years!!! Amazing how time flies! Since January 2010 I have been assigned to the diocese of Tabora as the Coordinator of Social Services which has a project just outside Tabora town. The project covers 3 villages. The work involves: helping people living with HIV/AIDS, and their families, helping orphans to get into the public schools as many cannot go due to lack of uniforms and school supplies which we provide, mobilizing and supporting the local health authorities to provide health services to the people living in remote areas, etc. We now have 73 orphaned children registered who need help with school uniforms, school supplies, and sandals. Many of these orphans are living with very elderly grandparents and many of these children are malnourished and are suffering from different illnesses like malaria, typhoid, worm infestations, fungus and some have HIV/AIDS. We receive many elderly people who have been deserted by relatives and are struggling to stay alive. Many lack the strength to cultivate and many are suffering from undernourishment and related diseases. The people are lacking clean and safe water and women have to try and get it during the night in order to avoid the huge line-ups during the day. This is putting them in danger of animals and men. Two years ago, we were finally able to get a company to drill a borehole and the people in Manoelo now have pure and sweet drinking water.
On the home front: I also have the responsibility of raising several wonderful children (Youth). Since moving to Tabora some kids I was helping while working in Shinyanga have joined my happy family as well. At one point I had 10 kids but now I have seven living with me. Two of them finished their education: Mayaya, who became a disappointment and had to leave, Margreth who is now working at an orphanage and often she oversees the workers. The kids and workers love her and so do we. She often comes home on her days off. The boy, Mayunga also was not able to follow the rules and I send him to his family after he finished Form 4. He is now selling fruits in his area and cultivates.
Of the seven who remain are: Mahona, my albino youth, who is probably well known by many is truly amazing! Mahona 24, is now in his second year of doing his Master's in Administration for education and is doing extremely well.
Ngassa 22, who is the youth suffering from Osteomyelitis, is now in Form 4 and will do his final exam this year. After 8 years we finally were able to get his wound closed. Praise God!! We are looking into training for vocational training as he is good with his hands but has difficulties studying.
Mfaume 21, is studying Pharmacy and is loving it. He has to resit his Physic's exam for Form 4 in order to continue his pharmaceutical studies.
Jacqueline 17, is now in Form two and loves her school. Her marks are slowly improving she feels encouraged. Do pray for her health as lately she has had quite a struggle and the doctors finally found that she has ulcers. She is using many antibiotics and some medicine to calm her stomach upsets. We thank God that she is improving.
Kiri 15, is now in Form One and also loves her school. She is doing very well and is happy to be close to her big sister. They are in the same boarding school.
Baraka13 will finish his Primary school this week! Wow! I hope that next year he also will go to the same High school as it is a very good school and he needs structure and firm rules.
Faraja 11 is now in standard 5 and is doing well. He will miss Baraka at his school. I need to take him to a urologist next month for a check-up.
My goal for the kids is to walk with the Lord and to succeed in their studies so they will serve God and their country well. Also, my prayers are that as they mature and form their own families they will pass on the love, care and teachings they received at our home to their spouses and children.
Click here to learn more about Hanneke's ministry in Tanzania. She is in the south-central area of Tanzania, in Tabora.
---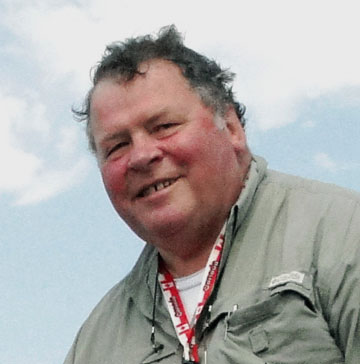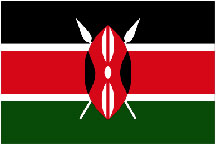 Bill Fitch, Listen to Learn, East Africa.
Bill is the director of Listen to Learn International. Listen to Learn uses audio teaching from renowned Bible expositors from around the world and creates a simultaneous dubbed translation into multiple indigenous languages. These audio teaching materials, now accessible to those without English, are made available to rural African pastors on pocket-sized MP3 players which are provided to each student. By having a Bible school come right to them where they live and serve, these pastors can prepare their messages while they continue to plow their fields during the week. His dear wife Peggy went home to be with Jesus [December 20, 2013] after a joyful and productive life.
---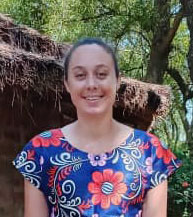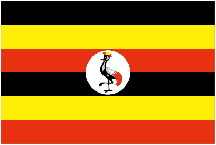 Leah Hopp, Orthodox Presbyterian Church (OPC) Uganda.
I thank the Lord for his faithfulness since 2009 sustaining me in ministry in rural, northeastern Uganda (Karamoja region). Eyai Akuj! God is with us!
He is at work in Nakapiripirit disctrict and it is a privilege to gain glimpses of his glory in the lives of my neighbours. Having started a Community Health Team (CHT) in 2009 to support the work of the mission clinic, it is my pleasure to now work with six health teachers: Naduk Olivia, Akol Josephine, Nakut Claudia, Opie Carolyn, Kocho Betty, and Lodim Moses. I have trained them to teach on various health topics as they visit their neighbours in the nearby homes. Being sent out on foot, two by two, they also teach in two local primary schools and a kindergarten. Melda, a clinician at Akisyon a Yesu Presbyterian Clinic (AYPC), has done a great job recently supervising the CHT and will continue while I am on furlough for the summer of 2022. Please pray that she and I will continue to work well together when I return to Uganda as we brainstorm about community health ideas regularly. Lessons on hygiene and sanitation are taught daily in six different villages located within a one-hour walk from the mission clinic. Some other common topics of teaching include: respiratory illnesses, gastrointestinal illnesses, infectious diseases, as well as maternal and child health. Because my neighbours now have more knowledge about how to care for their family's health at home, we are seeing some behaviour change implemented as well.
For more insight into the burden of disease in Nakaale, please read and download the research article that I just had published in the journal of PLOS Global Public Health, based on data from our mission clinic.
Click here for short visit with Leah via YouTube video.
---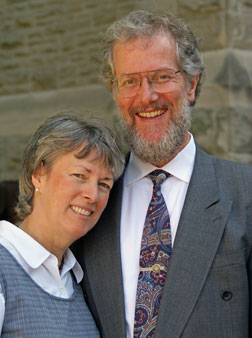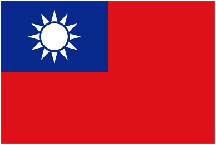 Paul and Mary Beth McLean, PCC

Paul works in partnership with the Presbyterian Church in Taiwan. Since 2012 Paul has been serving as a Bible Translation Adviser in partnership with the Presbyterian Church in Taiwan and the Bible Society in Taiwan.

Currently, he is helping a total of ten teams. Five indigenous teams are translating the Bible into the Bunun, Paiwan, Pinuyumayan, Tayal and Tsou languages. Three indigenous teams are translating Mark's Gospel into small Ngudradrekai dialects, namely Maolin, Tona and Wanshan. The Ngudradrekai Bible in the main Vedai dialect was published in July 2017. The Revised 'Amis New Testament, Psalms & Proverbs was published on March 3, 2020. The 'Amis team plans to revise the rest of the Old Testament. During 1983-1995 and 2004-2011, Paul helped translate the Bible into Hakka. It was published in 2012.

He and the Hakka team are preparing a minor revision which will be published in a new format in 2022.

Mary Beth retired in 2016 after many years of working in the Life & Mission Agency of the PCC. She enjoys spending time with her grandchildren, volunteering at church, and pursuing other interests.
---
After almost 30 years in Pakistan Bill and I returned to Canada in April 2018. Since then, Sheila continues to serve with Interserve in a variety of ways; with the National Office here as the Eastern Representative for Interserve and Team Leader for the Canada Ministry Team. The Canada Ministry Team is working with churches and organizations to promote work among peoples of Asia and the Arab World living here in Canada.
Internationally Sheila is the International Resource Person for Placement. In this capacity she works with placement people in Interserve to update, improve and refine our placement processes. I continue to administer and lead Interserve's personal development program for long term workers, Equipped to Serve (E2S).
Bill works full time as a GP in Newfoundland and keeps connected to the Interserve Pakistan Team by providing medical advice.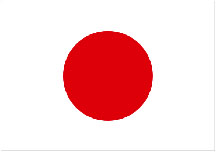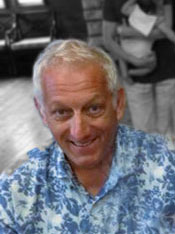 S and Yuriko Payne, Tokyo, Japan.
A church plant is going well. We're moving through Presbytery polity now, which is (gratifyingly) glacial in its progress. But we're crossing all the Ts and stuff. We're getting between 30 and 50 people on a Sunday, which is exciting. Lots of regulars already, plenty of interested visitors and word of mouth seems to be effective.
---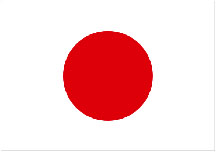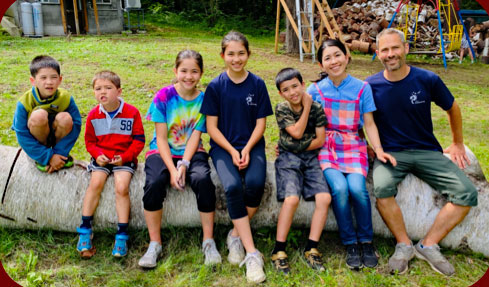 Luke and Yuko Elliot, OMF, Japan.
Born into a missionary family serving in northern Japan, Luke came to faith at an early age. After spending ten years as a young adult in the United States and Canada, he returned to Japan as an English teacher.
Yuko grew up in a Christian family in Japan's northernmost island, Hokkaido. Following six years of study in the United States, Yuko returned to Japan where she completed a graduate degree in clinical psychology. Prior to marrying Luke and preparing for full-time Christian ministry, Yuko worked as a school counselor and clinical psychologist while simultaneously serving as a founding member of a new church plant in Sapporo.

Shortly after their marriage in 2005, Luke and Yuko discerned God's call to devote their lives to full time ministry at the Aomori Christian Center (ACC).* After a challenging 8 years of preparation, they were commissioned as ACC Director in April, 2015. They live there with their five young children: Grace (2006), Faith (2008), Judah (2010), Josiah (2012), and Johnny (2014). Luke and Yuko are members of Knox Presbyterian Church, Toronto, and belong to OMF International.

*ACC is a year-round camp and retreat center. Its mission is to strengthen local churches by offering its facilities as a place for evangelism, Bible teaching, and Christian fellowship. To achieve this mission, the Elliots organize or jointly host a wide variety of camps and other programs.
---
---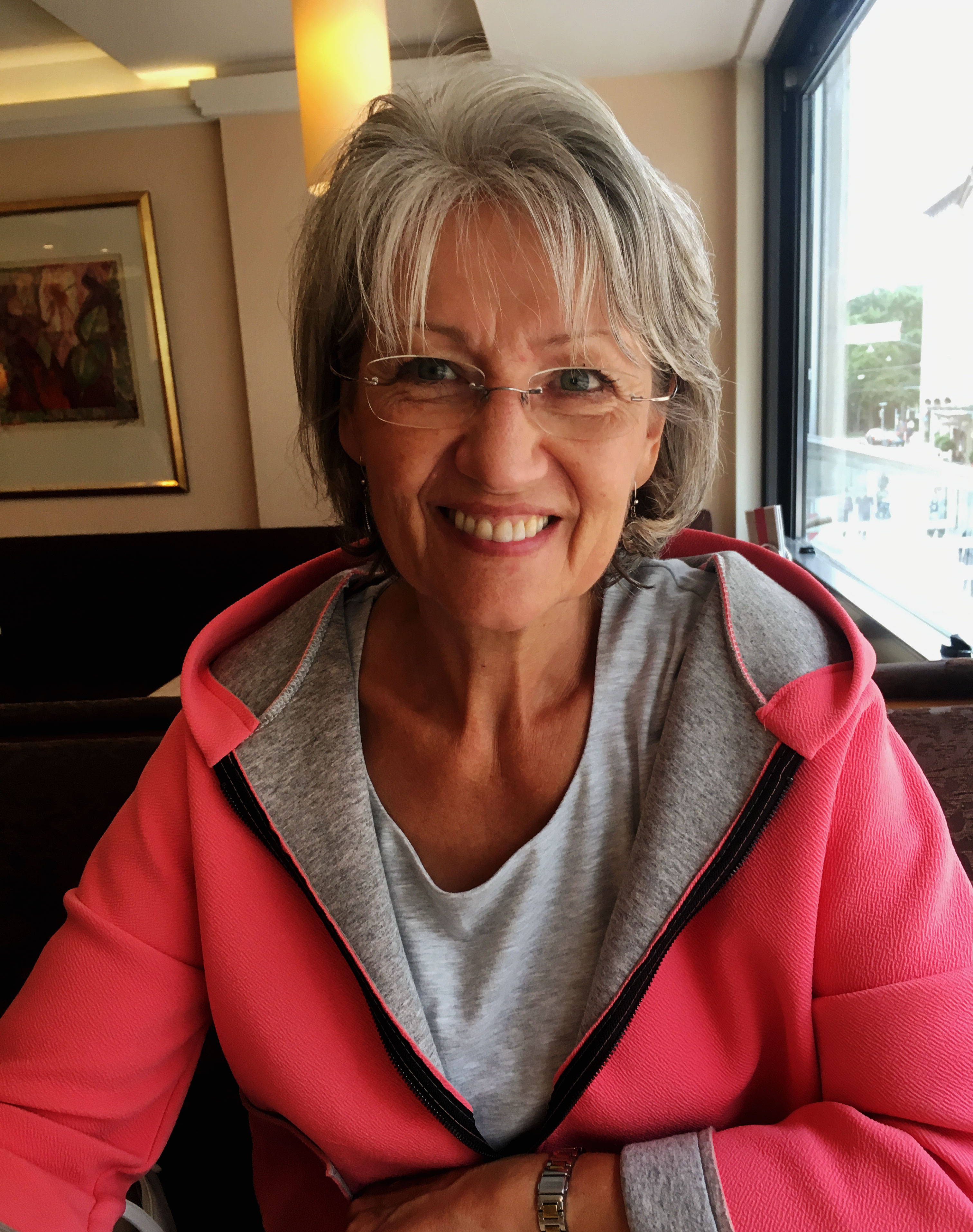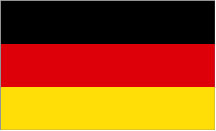 Elizabeth Matthias, Mission to the World, Munich, Germany.
Since 2015 Elizabeth supports a church-planting team at the Gospel Church München, as well as two other established churches, primarily through a counselling, teaching (largely lay counsellors) and mentoring ministry. The combined academic and applied/missions focus—understanding and applying the Scriptures in everyday life—is the heart of Elizabeth's call and passion.
Elizabeth was born in Canada of German immigrants, who retained close ties to their relatives. While working in Germany at the age of 20, she came to know Christ, and then lived and worked in Europe (Germany, The Netherlands and England) for eight years, before studying psychology (Alberta) and theology/counselling (WTS, Philadelphia). Further studies continue now with a DMin through WTS. Before taking the call in Munich, Elizabeth lectured in counselling with the Martin Bucer Seminary (2007-15) from Berlin, as well as in Nigeria (2000-05) at the Reformed Theological Seminary Mkar. Back to live and work in Germany, is beautiful providence!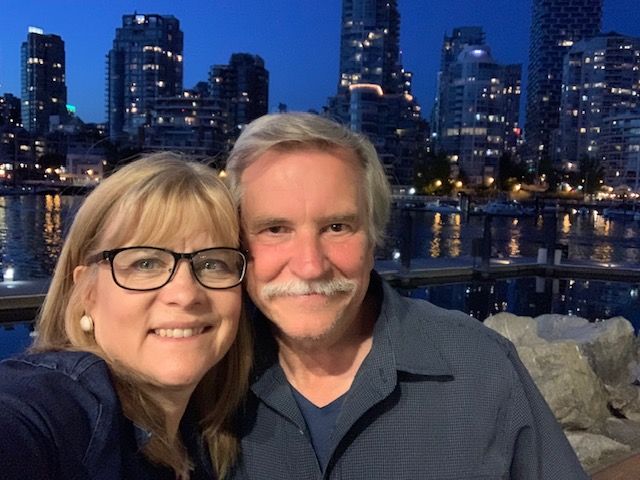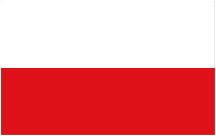 Gord and Brenda Nickerson, Josiah Venture, Vancouver, BC.
Gord and Brenda, along with their three children, Amy (26), Brad (23), and Katie (21), have been serving with Josiah Venture since January of 1997. Josiah Venture's vision is to see a movement of God among the youth of Eastern Europe that finds it's home in the local church and transforms society. For over five of those years the Nickerson's served on the JV Poland team. In 2003, they moved to the Wheaton, Illinois area where Gord now serves as the Partner Relations Director and Brenda as the Summer Intern ​Director​. In these roles, they are building a healthy network stateside by developing and maintaining relationships and partnerships for JV. They are also involved in the wider ministry of Josiah Venture as they shepherd our MIT's (Missionaries in Training), follow-up with JV churches, recruit and process summer interns, and represent the ministry of Josiah Venture throughout the United States and Canada.
​In addition check out the following blog: www.josiahventure.com/blog that their daughter Amy has been the lead writer for, to help celebrate Josiah Venture's 20th anniversary​.
---
---
---
---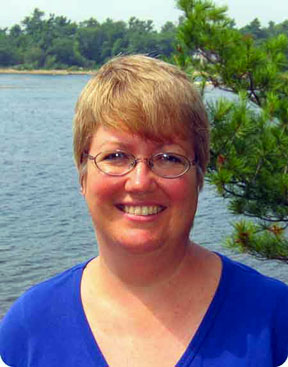 Laurie Armstrong, Power to Change.
Laurie came to love and appreciate Knox during her student years at U of T. After graduation in 1981, she joined the staff of Power to Change. After serving 15 years with the French campus ministry at the U of Montreal, UQUAM, and U of Ottawa, she joined the Ontario campus leadership team in 1996 as the Eastern Region Administrator. She currently serves in Guelph as an editor and French language specialist with the national Creative Communications team of P2C-Students. In addition to her campus and office responsibilities in Canada, she has also enjoyed many short-term opportunities to serve internationally with P2C in South America, Southeast Asia, Eastern Europe, and West Africa. After more than 35 years of ministry, she still delights in seeing life and world transformation as students discover Jesus.
---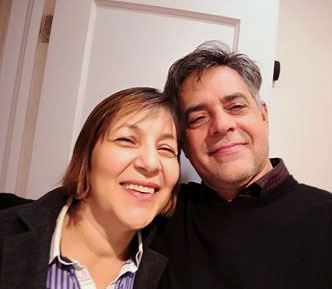 Carluci and Christina dos Santos, LAM, Canada.
As LAM Canada ED, Carluci is responsible to the Board of Directors for carrying out the policies and programs of LAM Canada. He is responsible to secure prayer and financial support for the Mission; to encourage and continue to build partnership among all LAM missionaries; to recruit, appoint, and deploy missionaries to ministries throughout Latin America; to attend to missionary care which includes their spiritual and professional integrity; to assist candidates in seeking prayer and financial support, and to make appropriate provision for continuing pastoral and administrative care for all LAM Canada missionaries. Nineteen couples and seven single active missionaries are currently working in seven Latin American countries directly under LAM Canada. The Mission also supports some national workers. God has blessed the work of the Mission and it has been able to withstand the challenges of our times, both financially and spiritually.
Carluci has earned a Ph. D. in Old Testament at St. Michael's/Wycliffe College, at the University of Toronto (2011). He is an alumnus of Knox College (2015), Regent College (MCS, 1990), and of U.B.C. (M.A. in Hebrew Bible, 1992.) Carluci served IVCF Brazil (1992-2002, ABUB) and initiated and coordinated activities over 20 cities and universities in the central west area of Brazil; he also taught courses in hermeneutics, Biblical languages, and exegesis at local seminaries in the city of Belo Horizonte. Carluci has also worked for World Vision-Brazil, and in a relief project in Mozambique during the last years of the Mozambican civil war (1984-1985). He is passionate about leadership development, biblical expository preaching and theological education both in Latin America and in Canada and teaches in formal and non-formal settings in the course of his travels. He is member of the board of the Instituto de Formacion Ministerial and also teaches Old Testament courses at this same institution; IFM trains leadership for the Spanish speaking community in Toronto. He also teaches at the Ottawa Theological College, and as a guest lecturer at Tyndale Seminary and Wycliffe College in Toronto.
Carluci was ordained a minister of the Presbyterian Church in Canada at Knox Church early in 2016. He, his wife Christina, and their three daughters have been working with the renewal of Celebration Presbyterian Church in Toronto.
Isabela is a graduate student in Political Sciences (U of Ottawa), and currently working on her thesis in Middle Eastern Studies at the University of Geneva; Nicoli is on her 4th year of Health Sciences at the U of Toronto; and Hannah, the youngest, is on her third year in Sociology/Latin American Studies, also at the U of Toronto. The girls are actively involved in Christian witness in their university campus, and at Celebration Presbyterian Church.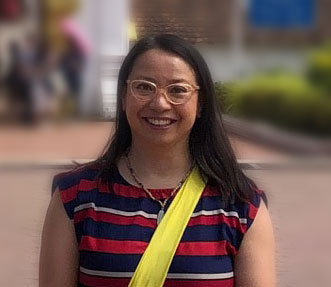 Ann Chow, Global Outreach Mission.
For 25+ years as a global strategist, Ann's breadth of expertise, passion for innovation and collaboration empower organisations and individuals around the world. Her priorities of amplification and multiplication establish themselves in different ways with the same goal of building a more hope-filled future.
Ann has used her range of ministry skills to bring innovative ideas to major events, missions projects, and strategic training for Christian organizations, with the goal of helping ministries do ministry better. As part of the program and operations teams behind InterVarsity's powerful Urbana Student Mission Conference, Ann has helped shape missions mindsets since 1996. In 2015, she was thrilled to initiate Hack4Missions, Urbana's first missions-focused hackathon!
Ann has enjoyed collaborating with the following organizations: Urbana (Urbana.org), International Fellowship of Evangelical Students (ifesworld.org), the World Evangelical Alliance (worldea.org), the Lausanne Movement (lausanne.org), International Justice Mission (ijm.org), Operation Mobilization (om.org), Indigitous (Indigitous.org), Arise Asia (AriseAsia.org), International Association for Mission Studies (missionstudies.org), A Rocha (arocha.ca), NAIITS (naiits.com)
Currently, she's volunteering as a member of the programme committee for Seoul 2024, the upcoming global congress for the Lausanne Movement.
On a national level, Ann is honoured to be a member of the Board of Directors for Partners International Canada (partnersinternational.ca).
She has been an elder for eight years at Knox Toronto.
---
---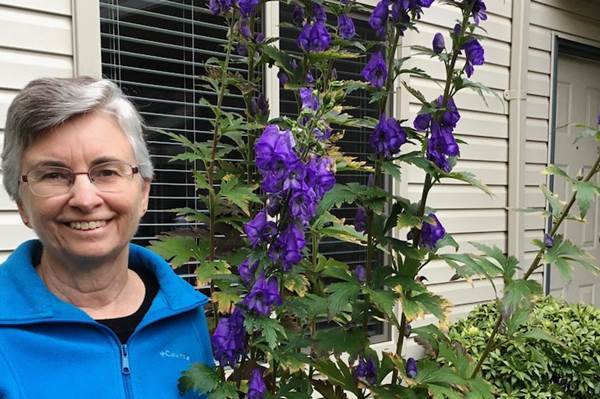 <![if !vml]>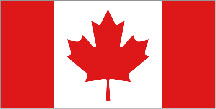 <![endif]>Susan Jeffery, Wycliffe Bible Translators, serving at the Canada Institute of Linguistics (CanIL) in Langley, British Columbia.
Susan and her husband, Dave, were born and raised in Cornwall and Toronto Ontario, respectively. They joined Wycliffe in 1985 and began working in West Asia two years later. They spent their first three years in a translation project, then six years in administration (Dave was field director while Susan was finance officer, then group librarian). From 1999 to 2002, they helped establish a training institute that continues to equip nationals for Bible translation work. In September 2002 the Jefferys moved to Chiang Mai, Thailand where Dave taught in a Christian university and served in administration and Susan served in various capacities at the SIL office. In July 2006 the Jefferys moved to Abbotsford, British Columbia and joined the staff of the Canada Institute of Linguistics (CanIL), Wycliffe Canada's linguistics training facility on the Trinity Western University campus in Langley. For many years Dave was VP for Academic Affairs and course head for two courses. Due to the advance of his ALS, he had to retire at the end of April 2020 and passed away on March 26th, 2021. Susan continues to manage CanIL's linguistics library, working mostly from home at present due to pandemic restrictions. She hopes to return to working out of CanIL when 'live' classes resume and considers herself privileged to be helping train the next generation of Bible translators and literacy workers.
SIL office.

OTHER WORKERS [no names for security reasons]
C & K They give global leadership to an innovative "business-as-mission" investment fund with a portfolio of companies in the North Africa, the Middle East, and Asia. Their ministry is compelled by a desire to see the Kingdom of God demonstrated, proclaimed, and extended, and to witness to Christ Jesus as Lord, among the least reached in the Muslim, Hindu and Buddhist majority world. To this end, their strategy includes mobilising, equipping, and supporting Christian professionals from all countries, including Canada, to serve cross-culturally in the mission of God.
Xerggyo and Hil
Eastern Europe
Dave & R
Ontario
S & I Brasil
---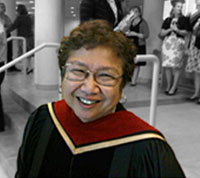 Donna Chun Wah Dong, Inter-Varsity Christian Fellowship of Canada, Ontario and Canada.
Donna came to Canada in 2002 to work with IVCF Canada, after 25 years with InterVarsity/USA. As Inter-Varsity Canada's first national director of Multiethnic/Multicultural Ministry, she focusses on Inter-Varsity's camping and campus ministries becoming more effective in including Canadians from Chinese, Korean, Filipino, Caribbean, African, and South Asian backgrounds as well as from Aboriginal/First Nations backgrounds.
As Inter-Varsity's Director for Multiethnic/Multicultural Ministries, my ministry focuses on the intercultural aspects of Inter-Varsity's calling: "Being shaped by God's word and led by the Holy Spirit, the purpose of Inter-Varsity Christian Fellowship of Canada is the transformation of youth, students and graduates, in all their ethnic diversity, into fully committed followers of Jesus Christ."
---
Geri Rodman, IVCF, Canada.
Geri Rodman currently works for InterVarsity Canada as a staff development and coach worker. In this role, she will coach Executive Directors of IFES (International Fellowship of Evangelical Students) in various countries around the world. Her ministry will utilize Zoom or Skype with some personal visits.
Geri was President of Inter-Varsity Christian Fellowship, an organization that purposes to experience extraordinary transformation of youth, students, and graduates in Canada until September 2018. She then transitioned to a Staff Development role.
Geri is passionate about seeking creative ways for IFES students to make a significant impact on the world in this generation.
Geri was educated at the University of Toronto, Wheaton College and at Gordon-Conwell.
Geri has served InterVarsity Canada since 2002 and brings a wealth of experience in ministry and leadership in the youth and young adult culture. Geri spent 23 years leading the Inter-Varsity Christian Fellowship ministry in Northern California and Hawaii. She lived and ministered overseas in Bogota, Colombia. Over the years, she has led numerous global treks with students to diverse locations around the world.
Geri has been a member of Knox Presbyterian Church for over 35 years. Geri serves on the Boards of Evangelical Fellowship of Canada and Water Ambassadors. Geri has travelled and lived aboard bringing a global perspective to her leadership. Speaking and teaching in churches, conferences, youth ministries on topics leadership, authentic community, missional development, and evangelism are welcomed opportunities.
Geri lives in a community household of long-term friends and ministry colleagues. Geri owns and enjoys a Bichon Cross dog, Boon, who are part of the community.
---
---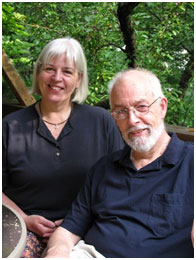 John and Deborah Bowen, Wycliffe College and Redeemer University College. John and Deborah came to Canada from Britain in 1977 to work with IVCF. For five years they worked on the U of T campus and became members of Knox. When they were moved by IVCF to Ottawa in 1982, they continued to be Knox missionaries. In the 1990s, John spoke at university missions on campuses around North America, and in 1996, Deborah became an English professor at Redeemer University College, and they moved to Hamilton.
Deborah has published two books which bear witness to Christ in the academic world of English, "The Strategic Smorgasbord of Postmodernity" (2007), and "Stories of the Middle Space" (2009). John has published five books, all seeking to encourage the church's witness: "Evangelism for Normal People" (2002), "The Spirituality of Narnia" (2007), and "Growing up Christian" (2010). He also edited "The Missionary Letters of Vincent Donovan 1957-1973" (2011) and "Green Shoots out of Dry Ground: Growing a New Future for the Church in Canada" (2013).
Both are now retired but continue to be active, Deborah in teaching part-time at Redeemer, and John in various ministries of preaching, teaching, writing, and mentoring young leaders. They also enjoy having time for their four grandchildren!
---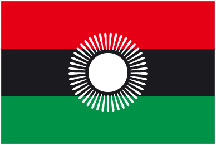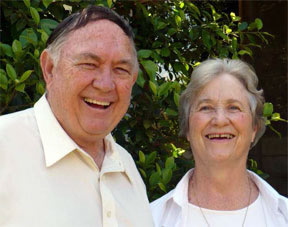 Glenn and Fern Byerly, African Bible College, Malawi.

Glen and Fern [from Canada] retired from their work in Ivory Coast and then during the civil war in west African countries they took up teaching and leading African Bible College, Malawi. The college has three majors: Bible, Communications and Education. They raised six children and are now settled in North Carolina. They are helping two of their girls get acclimatized into the USA after serving in Africa. They celebrated their 50th wedding anniversary this year.

Glenn and I are now working in the nursery. There are many young couples

in the church and so many children that we have a hard time keeping enough

workers

in the nursery
---
In 1965 Eleanor Knott went to India as a PCC missionary to work in the Helen MacDonald Memorial School, Jhansi, India. Being a graduate in Home Economics from Guelph, Eleanor helped teachers of home science make classes more interesting, provided many new embroidery and sewing patterns, and helped the hostel matrons make the diet of the hostel girls more nutritious. She assisted in English reading classes, did accounts in the Manager's office and helped in turn with chapel devotions. After 16 years in Jhansi, she moved to Bangalore to join the Christian Medical Association of India's program of teaching village women better nutrition. She spent her final years of work in India under CMAI in Nagpur, central India. Back in Canada, she worked with IVCF, Ottawa, from 1988 to 1997. Her work was mainly with international students at universities in Ottawa. In 1993 she married Alan Crabtree, a school friend. Alan died on November 9, 2007. Eleanor Crabtree lives in Meaford. She is involved in the local church (Knox Presbyterian) on the Bd. of Managers, and Worship Committee. Her hobbies are knitting & scrapbooking. Eleanor married John Jagt on October 15, 2016. I did not change my name. We moved from Hamilton to Burlington in October. John went home to be with the Lord on December 21, 2017.
---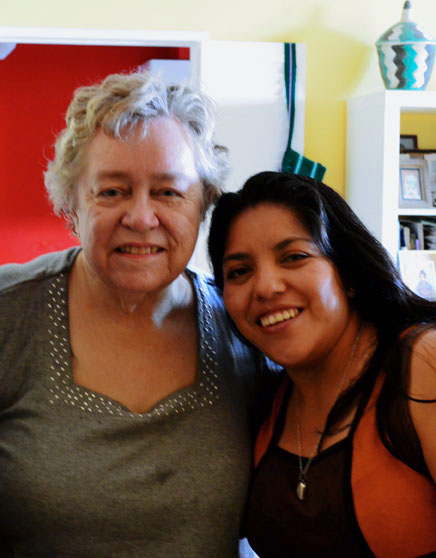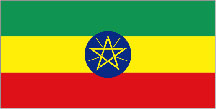 Diane Dadian
Diane is retired of the Reach Across. Diane befriends many newcomers and becomes a family to those who are alone or new or afraid. Calvin went home to be with the Lord March 10. 2010. Diane remains close to the Ethiopian communityin Toronto as well as maintains many links back in Africa. [Photo with Hil from Mexico.]
---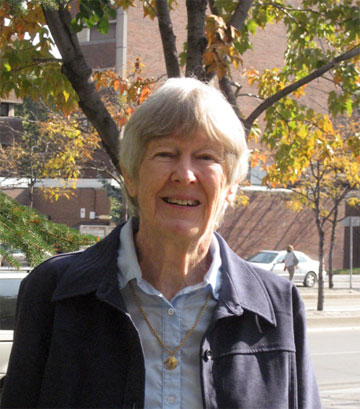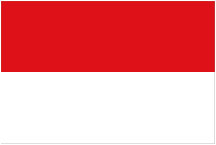 Sylvia Dresser.
Sylvia is a retiree of The Evangelical Alliance Mission (TEAM). She and her husband, Ken, served as Knox missionaries in Irian Jaya (Papua), Indonesia for almost 40 years. They established medical programs and saw churches planted in two areas of Southern Irian Jaya and conducted medical courses for evangelists working in other isolated places. Local men and women were trained as paramedics and midwives who provided care in the many villages where they lived. Ken also led daily Bible studies for workers. Ken went to be with his Lord on Wednesday, May 20, 2009. Sylvia is involved in writing a history of their work in Irian Jaya/Papua, Indonesia.
---
---
---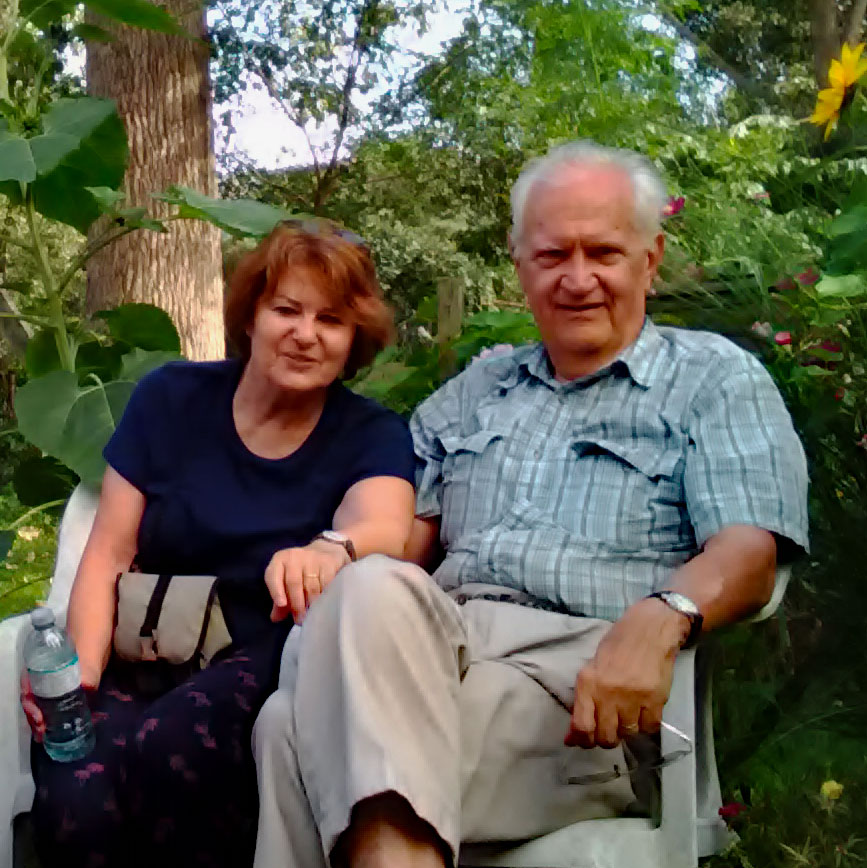 Gus and Marliese Ketola
After serving in the Arab world, they are now helping new arrivals adjust and learn language skills. Involved in personal, one-on-one outreach with the gospel.
---
Gladys was born in Saskatchewan and became a teacher. Eventually she came to Toronto where she studied nursing and then went on to OBC for Bible training. Her call to the mission field took her to Lima, Peru where she ministered with TEAM until her retirement. Her duties in Lima at the "Evangelical Seminary of Lima" mainly as Supt. of Women and Librarian plus others are too many to number. Gladys has settled in Calgary. She maintains regular contacts with many of her "girls" from seminary and with missionary friends from Lima days.
Norine Love, Toronto.
KWM is anxious to keep itself, the congregation and praying friends up to speed on the work of KWM. Following Norine Love's formal retirement from FFM, she joined the ranks of the valuable Phase 2 missionary retirees. Norine has agreed to accept a two-year volunteer assignment to help knit the Phase 2 folk more deeply into the fabric of the ongoing KWM ministry, as well as the life of the congregation. Her responsibilities include visiting all Phase 2 workers once in her tenure, as well as connecting via email or phone regularly. KWM will cover her travel and associated expenses. We encourage everyone to consider Norine one of the go-to folk for things KWM.
---
Jim and Leona Mason, SIM, Kitchener. Leona went to Nigeria with SIM in 1952 and Jim in 1957. Leona passed away March 4, 2014. Their ministry has been in literature work, both in Nigeria with Challenge Bookshops, then with Challenge Enterprises Ghana. While in Ghana they saw the beginning of Pastors Book Sets (PBS), and a Cinevan program still operating after 34 years. In 1989 Jim became Literature Consultant for SIM Internationally while based in Waterloo, Ontario. The Pastor's Book Sets started in Ghana, since then PBS has grown and spread through three continents, in five languages covering thirty-six countries. God used Jim's vision for a one volume 'Africa Bible Commentary' and a talented team produced the Africa Bible Commentary; Seventy African Scholars wrote on various portions of the Bible. We praise God for His blessing on the Africa Bible Commentary (ABC) for Africa and around the world. The Africa Bible Commentary in English was published and launched in Nairobi, July 2006, the French was launched November 2008; Portuguese (Angola and Mozambique) 2010, Swahili in 2010, Malagasy in 2014. It is exciting to witness the 'ripple effect' of the original ABC. Amharic and Hausa translations, 2015. Grass roots commentary projects with similar mandates modeled on the ABC, are now under way for the Arab world (in Arabic), South Asia (India, Sri Lanka – in English) with a translation in Hindi, already underway, & South America (in Spanish & Portuguese), also in Russian. Presently there are 13 either translations of the ABC or new writing at a similar reading level Praise God with us for His continued blessings on the commentary outreach.
Jim has now completed and published 'Literature Outreach in Nigeria' - from 1901 - 1980. This has been well received and is now part of the SIM Archives. God's 'Challenge in Ghana, covering 55 years was published December 2013.
---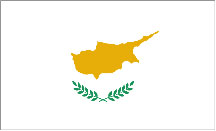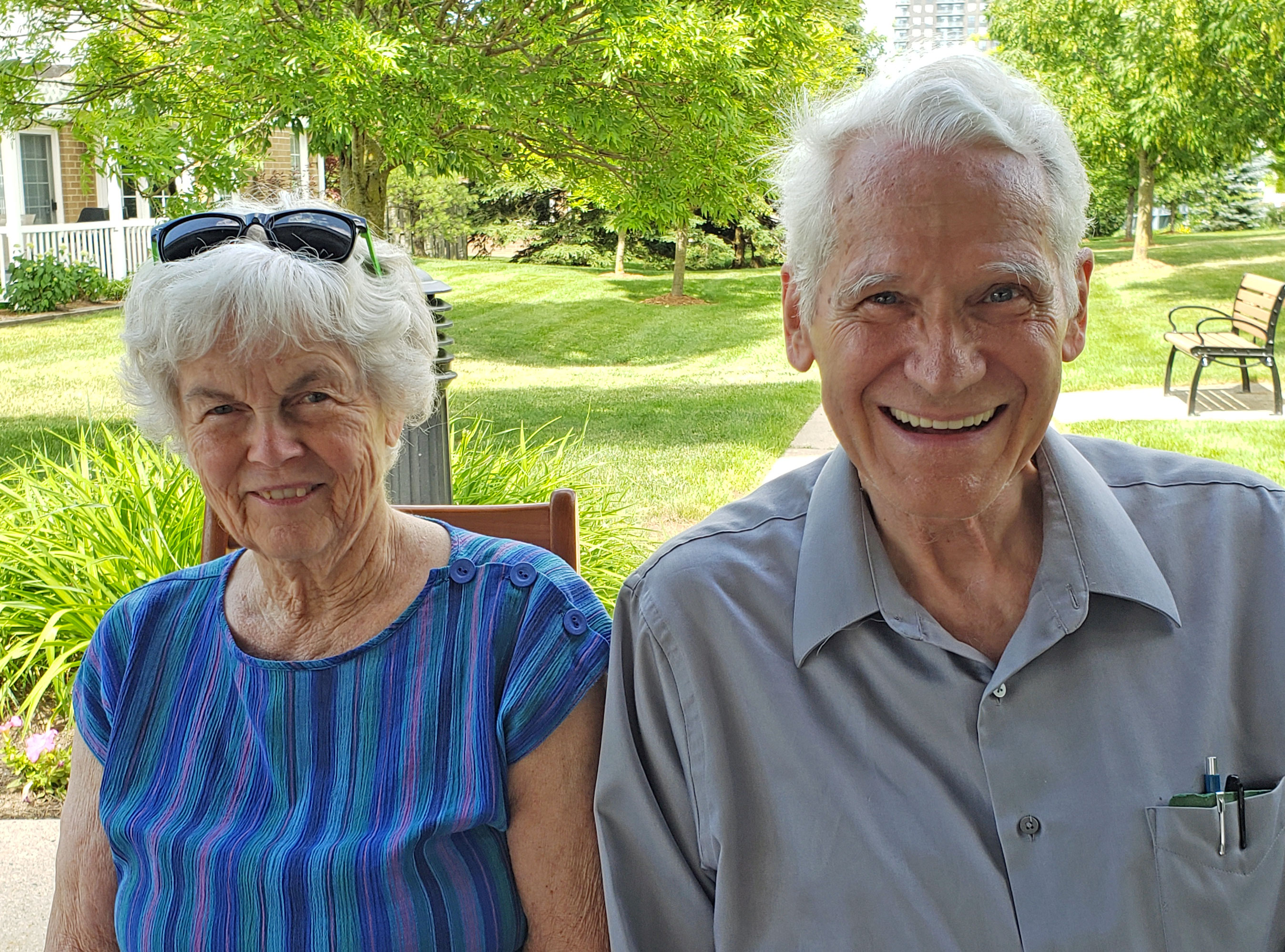 Angela and David Morris.
Our 36 years of living in Cyprus are completed. The man who rents our house in Cyprus from an undeveloped country. He shares our goals of an indigenous house church movement to take root among his people. He has the vision of bringing believers from difficult countries to the island to grow in discipleship and learn how to reproduce the NT church, the church that flourished despite severe persecution in the opening centuries of our era. He wants to invite other people and groups who can provide practical training so that these aspiring apostles can earn their living while working in the market places, like Paul did!
"We now live in Elora. Daniel, our eldest, and his wife teach at a university in the States. Nathan and his family live in the Waterloo area. Nigel, our youngest, is working in downtown Toronto using his programming skills. We will value being so much closer to our four grandchildren."
---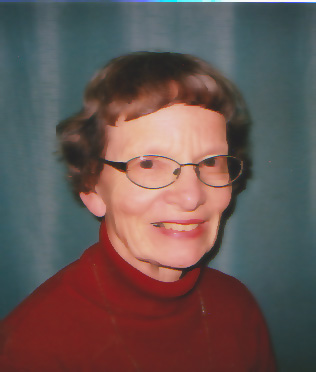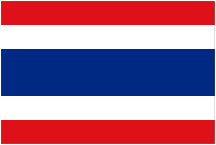 Barbara Rahn.
Barbara was commissioned by Knox in 1965 for service in Thailand with OMF International. She worked as a registered nurse at Manorom Christian Hospital in Thailand for almost 25 years and then returned to Canada to care for her mother and manage the OMF Book Department for 15 years. Now she is the OMF Retiree Care Coordinator and keeps in touch by telephone and personal visits to many retirees across Canada helping in practical ways with issues related to aging. She also serves on the OMF Candidate Council screening new workers for service in Asia. Involvement in her church and community activities in Cambridge brings her much joy.
---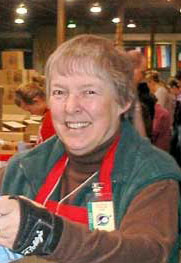 Margaret Roth, Global Outreach, Kitchener.
Marg went to Costa Rica in 1969 to language school and then on to Ecuador at the beginning of 1970. She worked with HCJB for 20 years in various jobs through the years, starting as a nurse, and had her children there. In 1990 she and Dave moved to Kitchener and ministered with Global Outreach where Dave travelled around the world in installing communications equipment for mission hospitals and mission stations. Marg went on a few trips with him, but mostly did what needed doing at home and became involved with Operation Christmas Child and a group sewing outfits for AIDS orphans in Zambia and then in Kenya. Marg now sews for three hospitals, one clinic and one orphan group as well as several other charity needs. It has become more than a full-time job along with a ministry of encouraging people. Dave died in January 2006.
---
---
"As a teenager at a Christian camp, I had asked Christ to come into my heart. Shortly after, ... I felt that the Lord wanted me to be a missionary, ultimately to help provide health care for the native people who had no medical services in the high Andes Mountains. How God provided when my money ran out is another story that proves what my pastor in Jamaica had told me: "God's finger that points the way is a part of His hand that will provide.

"I studied at Moody and was then persuaded that I should go to Toronto General Hospital to do nursing studies.

My first Sunday in Toronto, Amy, a friend, came to the hospital and took me by streetcar and bus to the morning service at Knox. Knox was my home church for some 30+ years. Knox Young Adults was close to my heart and had a part in my spiritual growth and my support on the mission field. Knox ministers counselled me, and it was a Knox minister (George Lowe) who persuaded me that I should become a Canadian citizen because he was concerned for my retirement years.

Eventually, a tropical disease (filariasis) affected my legs with inability to stand for long, and I was unable to return to Ecuador - the country that God had called me to, and where

I thought I would die and be buried!

"On my return to Canada, God provided a hospital job that involved staff education,

so not much standing.... Ian Rennie at Knox told me about a position at Emmanuel Bible College in Kitchener where the Lord graciously gave me the privilege of continuing to have a part in preparing others for ministry and missions.

Since retiring I've had the privilege of being a volunteer instructor/mentor for

prisoners who are doing Bible study courses. Sometimes I'm tempted to quit but

the Lord reminds me that serving him is a privilege; and the mission field is all

around us!

"I appreciate being able to pray through Knox Missions items on the web."
---
Jack was born in Korea of Presbyterian missionary parents and met Mary Anne at Wheaton College. They were married after Mary Anne finished her nursing degree and following Jack's studies at Princeton Seminary, were asked by the Presbyterian Church in Canada to found a congregation in Port Cartier, Quebec. Dr. Fitch asked Jack to be his assistant at Knox in 1963. In 1965, together with their three children (Alan, Jon, and Lisa) the Voelkels began their missionary activities in Latin America under the Latin America Mission. They pioneered a university student ministry in Colombia which they helped lead for 20 years and then taught in the Biblical Seminary of Colombia for 10 years where Jack founded the mission's department. Along the way, Mary Anne picked up a Master's degree from Wheaton College and Jack a Doctor of Missiology degree from Fuller School of World Mission. In 1999, InterVarsity USA invited the Voelkels to return to North America to help with the preparation of the Urbana Student Mission Convention. Mary Anne was especially instrumental in promoting prayer and intercession which over the years has had an impact on the whole InterVarsity movement. Recently, Jack served as Interim President of the Latin America Mission until March of 2009. Now once again based in Tucson, Arizona, the Voelkels are leaders in their local church, are reaching out to their new neighbors after moving, and respond to opportunities to speak at conferences in Canada, Colombia, and the U.S.
---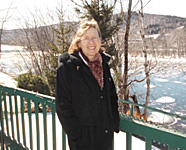 Rosemary Walker, AIM, Quebec Mobilizer.
Having returned from Tanzania, where I was teaching English and touch typing, and teaching a Sunday afternoon community Bible class, I am now helping AIM Canada prepare to launch their new French web site by French texts from Google Translate! I really like this kind of work, and have a French-Canadian pastor and his wife, Gilles and Lois, who are helping me make sure that my French is acceptable. :) God willing, I'm to retire on December 31st, but hope, if the Lord opens the door, to get back to Africa (Democratic Republic of Congo and/or Tanzania) in the new year on a short-term mission.
---


ASSOCIATED MINISTRIES
Knox Dinner and Food Bank, established in 1996 by Bill and Vicki Wood
Our story: Our program started in November 1996 as the City's only volunteer-run meal and shelter program for youth under 25. Until April 2006, we operated a dinner, overnight shelter and breakfast program on Tuesdays, under the Out of the Cold umbrella.
In 2005-2006, we found that, in part due to the success of the City's Street to Homes program, most of the youth we served had been able to move into rooms or apartments. The number of youth using our overnight shelter declined dramatically, yet we were surprised to see that most of our long-time guests continued to come to Knox each week just for dinner. They also started asking if we had food, they could take home.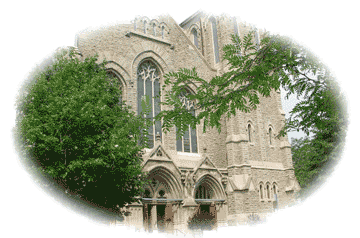 Unlike most young people who start off on their own with the support of family, many of our friends come from unstable homes, or are far away from their original homes. As a result, they don't have some of the "soft" supports that help most young adults make this transition. Sunday dinners with family, "care packages," and a chance to enjoy a home cooked meal (with second or third helpings) with friends are things many of us took for granted as we moved into our first homes. In a way, this is the role we try to fill with our program. To the young people we serve, Knox is a 'home away from home' that they visit each week for a little TLC and help. We hope, and truly believe, that these young people tangibly feel God's love when they enter our doors.
An important and surprising side benefit of providing this support is that many of our former program "guests" return to volunteer with us. At this time, about 20 of these youth—now mostly in their late 20s and early 30s— are regularly volunteering, helping us to set up the food bank, serve meals and perform clean up and maintenance duties. In fact, they now make up our core group of volunteers.